One of the big projects I wanted to tackle as part of the new farm design was finding a way to attract as many pollinators as possible to help with seed production and increase the overall life and biodiversity here on the farm. 
When it comes to pollinators, honeybees usually get all of the credit, but there are so many other hard-working creatures that aid in the important task of pollination, including bumblebees, honeybees, native bees, wasps, hornets, flies, moths, butterflies, and even birds. 
As I started looking for information about what plants were most attractive to pollinators, I found myself getting a bit overwhelmed. There were numerous wildflower seed mixes available specifically blended by region, but when it came to perennials, I couldn't find any planting plans, suggested plant combinations, or design samples that I could use for inspiration. 
While many companies do a great job identifying which plants are attractive to pollinators (usually with a bee or butterfly icon), I found it hard to know which plants had similar growing requirements and would make good companions in the landscape.
So often when you see pictures of a pollinator-friendly garden it's typically a jumble of color and feels chaotic and messy. While that effect is fitting in a wild, meadow-like setting, it's not very suitable for a more curated garden. 
I wanted to see if I could find a way to create a beautiful pollinator-friendly garden that was also low maintenance, drought tolerant, and would provide a food and nectar source for pollinators and songbirds throughout as much of the growing season as possible. 
The first step in this experiment was to source as many easy-to-grow pollinator-friendly perennials as I could find. Rather than investing in large plants, I instead opted to order plugs, which are smaller plants, usually sold in trays of 32 to 50.
Buying smaller plants in bulk was the most affordable option and necessary given the scale of the project. 
If I were doing this on a smaller backyard scale, I would still choose to start with the smallest plants I could find because what I discovered was that nearly all of the perennials I grew as part of this project are fast-growing and fill in quickly, catching up to the size of a 1-gallon potted plant within a single growing season.  
When making my selections, I ordered everything that was noted as being attractive to pollinators and also easy to grow. I tried to select plants that had softer, more muted colors, rather than really bright and bold selections. 
Becky and I considered a number of different approaches when it came to designing what eventually became the pollinator strips. We are both huge fans of Piet Oudolf's style and how he composes plantings in large drifts that are repeated in a loose pattern throughout the garden. It creates the effect of wide brush strokes of color and texture.
If you don't already have Piet's books, they are all really wonderful, but my favorite is Planting the Natural Garden. 
Becky organized the perennials based on color, size, and flowering time. For some of the pollinator strips, we opted for a monochromatic color palette of all whites or purples, while others included multiple colors in softer complimentary shades.
In the end, we settled on seven different color and plant combinations.
We decided to keep the design as simple as possible and plant the pollinator strips in long rows along the edges of our flower fields, similar to how our field crops are grown. This allowed us to use drip irrigation in the beds and landscape fabric to mulch the pathways in between, making maintenance much easier in the long run.
In the spring before planting, each bed was amended with a few inches of high-quality compost and natural fertilizer (I love Walt's Rainy Pacific Northwest blend) and this mixture was incorporated into the soil with our walk-behind rototiller.
Each pollinator strip is roughly 3 ft wide and about 80 ft long with a 2 ft wide landscape fabric-covered path. Once the beds were prepared, Becky laid out all of the baby plants according to her designs and we followed behind tucking them into the ground.
We chose to space plants quite closely together (roughly 8 to 9 in) because we wanted them to establish quickly, essentially forming a living carpet so that they would be able to compete with the heavy weed pressure we have here on the farm. 
We normally grow our annual field crops in pre-burned landscape fabric to help with weed suppression, but since perennials spread from the base as they mature, using fabric on the beds wasn't an option for this project.
Instead, we covered the bare soil around the young plants with a layer of straw mulch to keep the weeds at bay while they established. Shortly after planting, we laid down four lines of drip irrigation and watered plants deeply twice a week whenever there was no rain. Plants went into the ground in late March, and to my surprise, by July most were in full bloom and nearly filled in.
We went through and spot-weeded a few times in the summer, but overall they required very little maintenance and care. Plants established quickly and soon smothered out the weeds.
We evaluated each combination of plants over two full growing seasons.
Some planting schemes fared better than others, and I have plans to recombine the strongest performers from each into some new plantings to see if I can perfect the plant combinations.
Of all the plants that were part of this project, my very favorites were the yarrow, asters, agastache, nepeta, salvia, milkweed, Joe Pye weed, echinacea, and goldenrod. All of these plants were vigorous, filled in quickly, and didn't have any major pest pressure.
Plus, the pollinators adored them.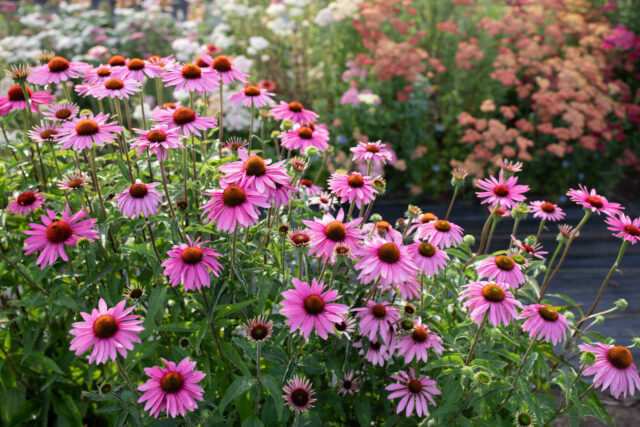 While I absolutely love echinacea and it's hugely attractive to pollinators, we have such heavy vole pressure in the field, and plants didn't survive the first growing season. If voles weren't an issue, I would incorporate even more echinacea into future designs because they have so many wonderful characteristics. 
Below you'll find a little more information about some of my favorite planting schemes.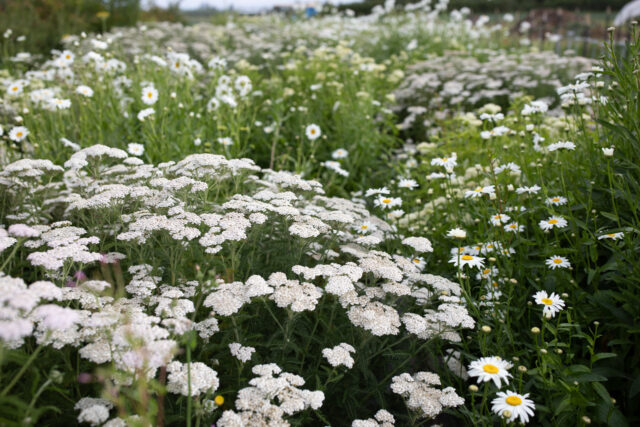 One of the pollinator strips I was most excited about was the one composed of all-white flowers.
This strip included echinacea 'White Swan', Shasta daisy 'Alaska', common yarrow, milkweed 'Ice Ballet', and perennial asters.
While it looked glorious in late June and early July, it didn't hold its beauty all summer long like many of the others. By midsummer, the Shasta daisies had tipped over and everything else looked a little bit shabby and dingy.
While the floral display waned more quickly than I had hoped, this particular pollinator strip was a favorite with songbirds in the fall and winter so it still has a ton of merit in my book.
One of my favorite plant combinations was the one composed of all yellow flowers, including a mixture of different types of goldenrod ('Golden Glory', 'Crown of Rays', 'Fireworks', 'Sunny Glory', and 'Romantic Glory'), various black-eyed Susans (including 'Little Henry' and 'Goldrush'), and tansy. 
This pollinator strip had a kind of rugged feel to it and all of the plants were very textural and wild. I think the plant mix would look stunning in some type of meadow situation or planted on an even larger scale.
Of all the pollinator strips, this one was the most attractive to pollinators, especially wasps, native bees, and flies. 
Another lovely plant combination that Becky put together was all rosy pink and purple flowers.
It included yarrow 'Sassy Summer Taffy', pink tickseed, echinacea 'Magnus', milkweed 'Cinderella', Japanese anemone 'September Charm', agastache 'Blue Boa', and bee balm 'Grape Gumball'.
It's worth noting that we lost most of the echinacea due to vole pressure so there were a number of gaping holes in the design, but on the flip side the Japanese anemones filled in rapidly and put on a beautiful late-season floral show. 
To my surprise, the design that I was least excited about, which featured all blues and purples, turned out to be the longest-flowering and most beautiful one of all. 
Because all of the plants included in it had a more compact habit, they stayed upright without any support. The varieties bloomed in a nearly perfect succession from early May through September and whenever I stood next to it, it was literally humming with life! 
If I were to recommend one planting scheme of the seven, this is my very favorite and we've put together a printable planting plan and plant list which you can download at the bottom of this post.
As part of our low-maintenance approach to caring for the pollinator strips, we decided to leave all of the plant debris in place through the winter, rather than cleaning it up at the end of the growing season.
I had no idea just how many little creatures would feast on the remaining seed pods and make these wild spaces their home throughout the coldest months of the year. 
After realizing what an important role they were playing for wildlife, we've adopted a similar approach to all of the gardens on the farm and are now leaving the dead plants in place until early spring.
The plant skeletons give the winter garden a hauntingly beautiful quality—especially when they are covered in a layer of frost or a dusting of snow. 
Overall, the pollinator strip experiment has been a huge success and I'm excited to continue working on it this coming season.
Most of the perennials that were used in this project were sourced from Bluebird Nursery in Nebraska. This wholesale mail-order nursery offers more than 1,500 different varieties.
If you're looking for perennial plugs in smaller quantities, be sure to check out Prairie Moon Nursery in Minnesota because they are now offering native flowers and grasses for home gardeners. 
I am so excited to keep exploring plantings for pollinators and will continue sharing updates here on the blog.
I'd love to hear about some of the pollinator-friendly plants that you have growing in your garden.
---
Please note: If your comment doesn't show up right away, sit tight; we have a spam filter that requires us to approve comments before they are published.
Floret only lists companies and products that we love, use, and recommend. All opinions expressed here are our own and Floret does not offer sponsored content or accept money for editorial reviews. If you buy something using the retail links in this post, Floret may receive a small commission. Thank you for your support!