Bring your flower dreams to life
MASTER THE SKILLS TO GROW AN ABUNDANT CUT FLOWER GARDEN OR BUILD A FLOWER BUSINESS IN YOUR BACKYARD
Whether you want to:
Grow flowers in your backyard to share with your family, friends, and community …
Build a flower business from a hobby that you love …
Or simply bring more joy and beauty into your life through flowers …
You're in the right place.
In the Floret Online Workshop, New York Times bestselling author Erin Benzakein pulls back the curtain of her flower-filled world to show you step by step how to grow, harvest, and sell beautiful cut flowers in your backyard or on a small plot. In the workshop, filmed over an entire growing season, Erin shares key strategies, systems, and time-tested techniques used to build Floret's thriving, profitable flower business on a tiny 2-acre property.
Join flower lovers from around the world who have created abundant cutting gardens, launched successful flower businesses, and discovered the joy of growing and sharing seasonal blooms through the Floret Online Workshop. This comprehensive workshop includes more than 150 instructional videos, a beautiful 290-page printed course book, Q&A sessions with Erin and Team Floret, support from fellow flower growers around the globe via the Floret Learning Community, and so much more.
Enrollment in the Floret Online Workshop is offered just once per year.
SMALL SPACE: BIG IMPACT
NO FARM REQUIRED
Learn to grow an abundance of flowers on a tiny plot
Backyards
Farm fields
Side yards
Allotments
Easements
Rural homesteads
Urban lots
Rented fields
Parking strips/verges
Churchyards
Pastures
Former sports fields
Benefits beyond the blooms
GAIN THE CONFIDENCE & BUILD THE SKILLS YOU NEED TO LIVE A FLOWER-FILLED LIFE
CONFIDENCE
Break through self-doubt by building your skills and using Floret's time-tested techniques to grow an abundant garden.
CLARITY
Outline your vision, identify your strengths, and create actionable goals for your garden, farm, or business.
TRAINING
Master the specific skills needed to grow an abundance of flowers on a small plot, no matter where you live.
SUPPORT
Get guidance, encouragement, and support, plus answers to your questions from Team Floret.
COMMUNITY
Create connections, build relationships, and make lifelong friends with fellow flower growers through our learning community.
"I have taken other workshops and learned from other farmer-florists that I admire and love, but Erin is an open heart—and that is priceless. This workshop speaks to the heart more than anything else. Thank you for sharing your human struggle with us, for teaching us—not only how to grow flowers and the technical side of business—but for sharing your fears and your weaknesses and your strengths."
Beautiful Business Ideas
Convert your hobby into a seasonal business or new career
Learn creative ways to sell your homegrown flowers, including:
Florists
Roadside stands
Bouquet parties
Weddings & special events
Bouquet subscriptions
Chefs & restaurants
Flower trucks
Farmers markets
U-pick flower patch
Charitable organizations
Agritourism
Flower workshops
Course Outline
SIX COMPREHENSIVE MODULES DIG DEEP INTO SMALL-SCALE FLOWER PRODUCTION
Module 1
Getting clear
Take a behind-the-scenes tour of Floret. Discover potential sales outlets and learn about various seasonal flower business models for inspiration. Learn key steps to successful goal setting and how to build a business around your strengths. Get expert tips from successful farmer-florists in various climate regions.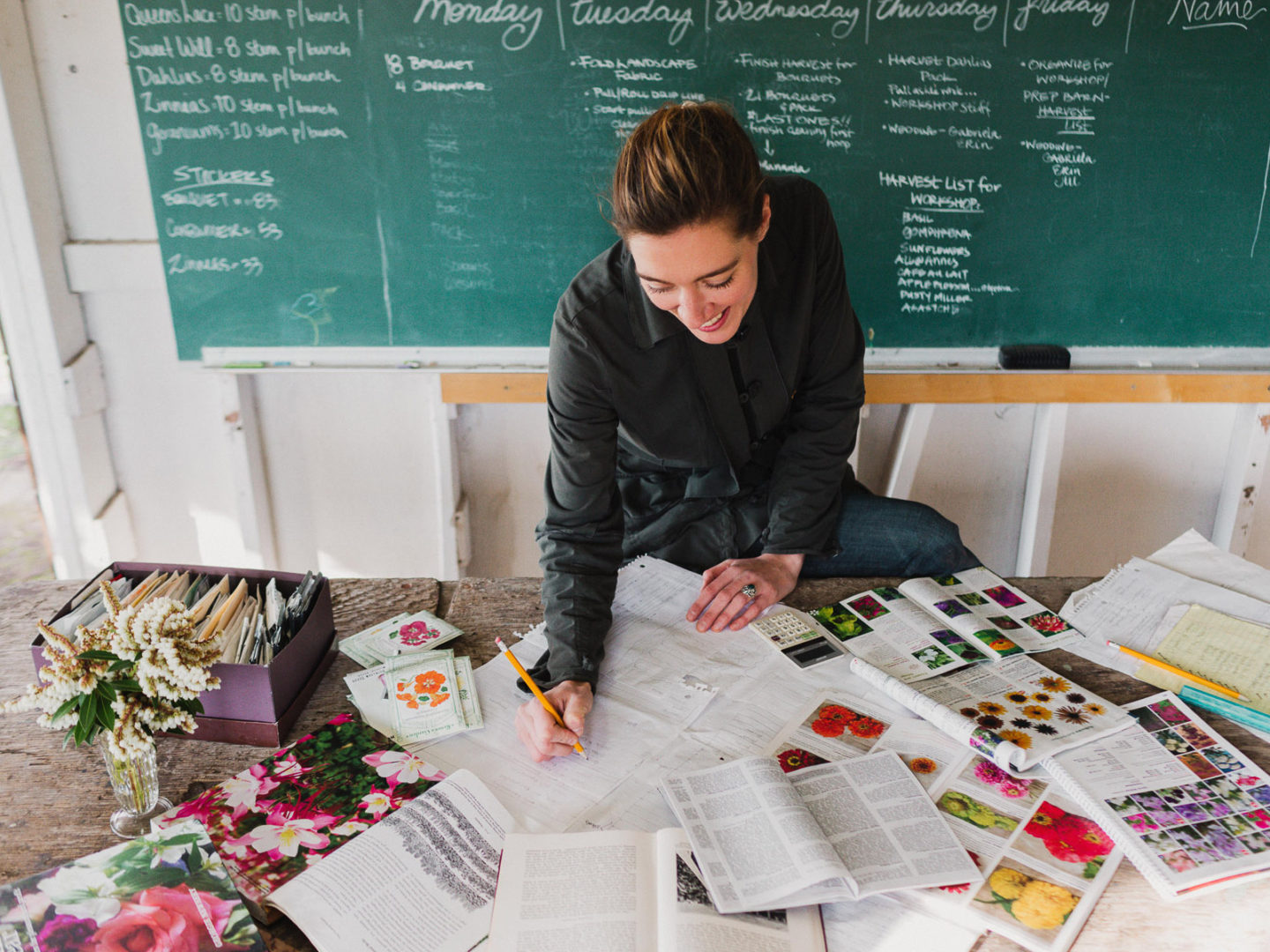 Module 2
Planning the farm
Learn key strategies to design a productive and profitable cut flower garden or small-scale flower farm. Learn to plan and manage annual tasks without overwhelm. Learn the secrets to succession planting and variety selection in order to have a continuous harvest of blooms throughout the growing season.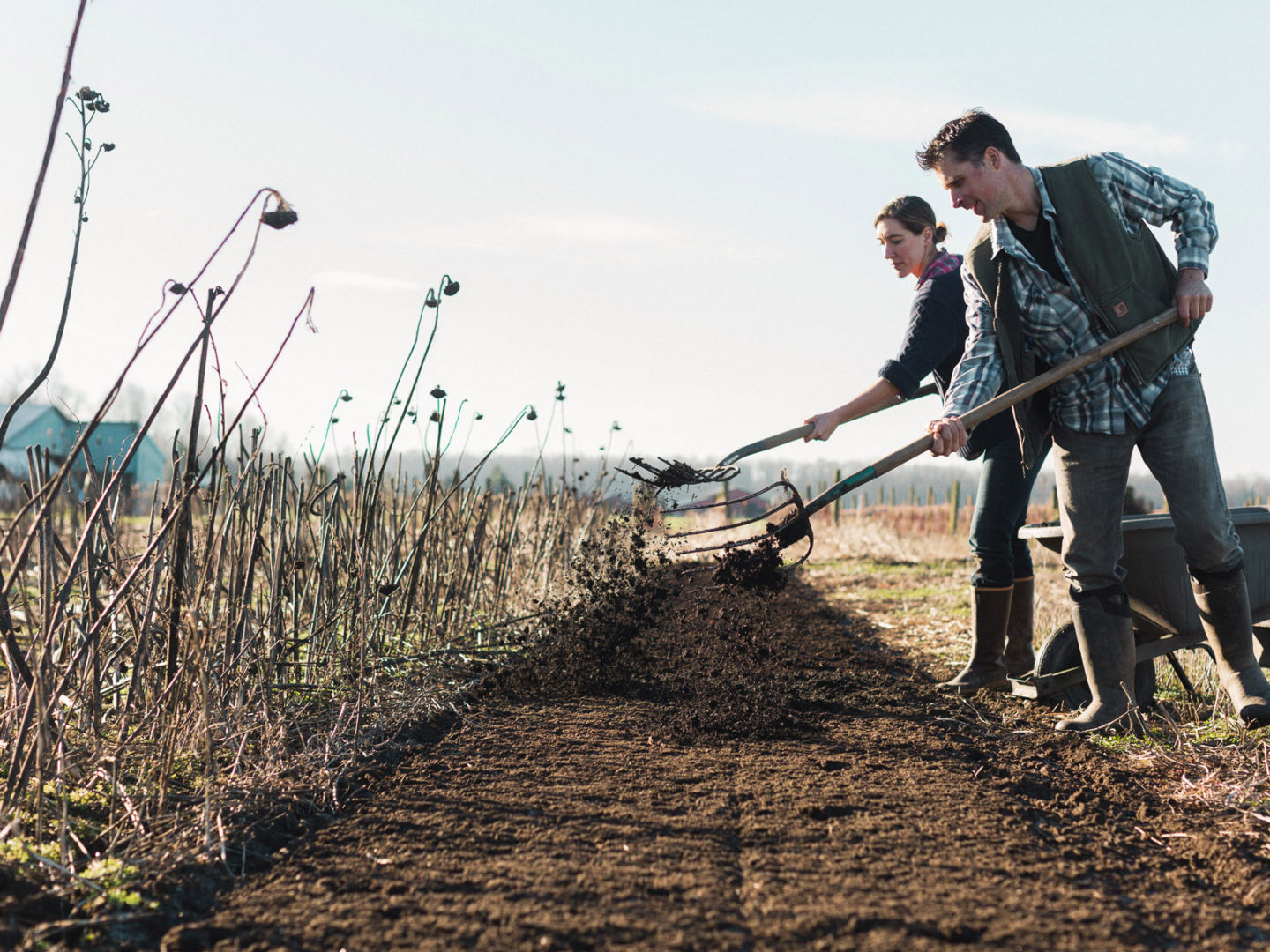 Module 3
Getting a good start
Learn the essentials of producing top-quality cut flowers using time-tested, organic growing techniques. Dig deep into seed starting, soil preparation, fertility, plant propagation, specialty crops, and specialty bulbs. Discover growing techniques to increase production and efficiency on a small scale.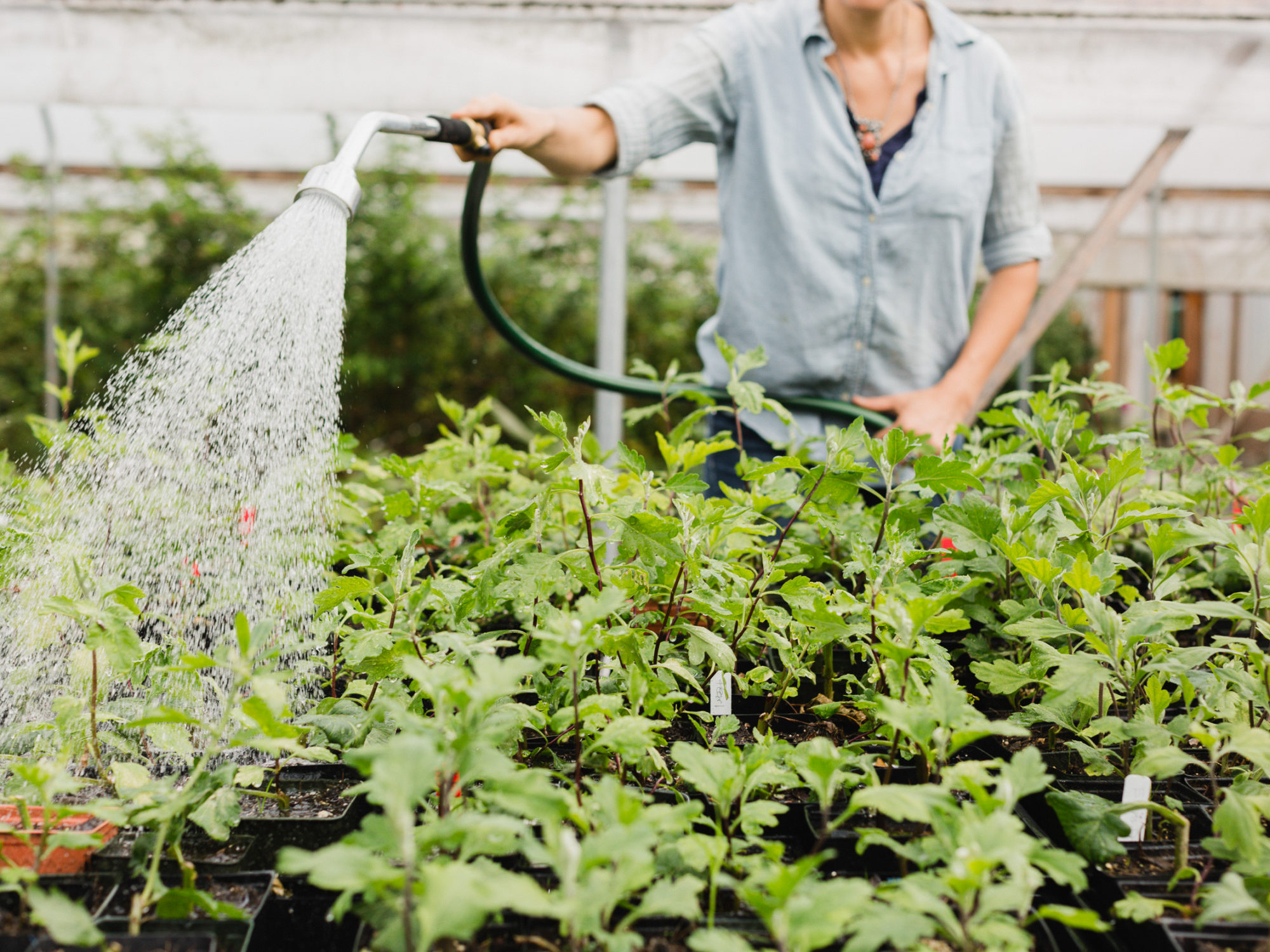 Module 4
Get growing
Learn essential strategies for efficient transplanting, weed prevention, and flower support systems. Get step-by-step tutorials on everything from a basic irrigation set-up to season extension through the use of low tunnels. Get Floret's list of recommended supplies, tools, and gear needed to grow and harvest beautiful blooms.
Module 5
Sales & marketing
Learn how to effectively price, market, and sell your flowers with confidence. Understand and evaluate the various sales channels and value-added opportunities for your flowers to decide which is the right fit for you. Learn essential techniques to attract and retain customers on your website and using social media.
Module 6
Harvesting & caring for cut flowers
Discover how to get the longest vase life out of your farm flowers. Utilize Floret's time-saving techniques to harvest, assemble, and package bouquets and bunches beautifully and efficiently. Learn key concepts related to proper stage of harvest and postharvest handling and care.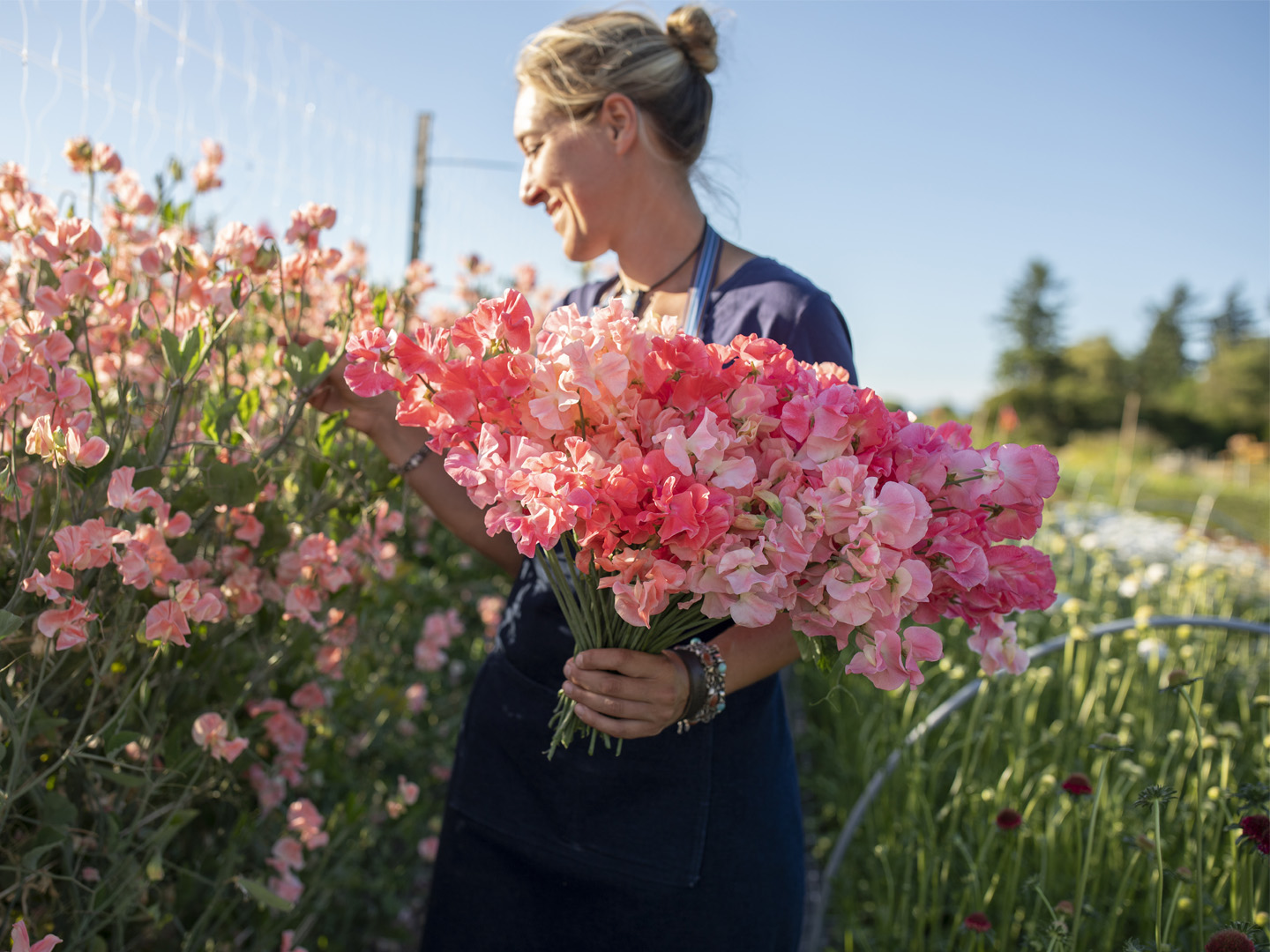 Learn from Floret founder Erin Benzakein
Flower farmer, designer, author & instructor
Considered to be one of the country's most influential farmer-florists, Erin Benzakein has shaped floral design trends, redefined small-scale farming, and inspired thousands to grow and share seasonal flowers.
Author of The New York Times bestseller, Floret Farm's A Year in Flowers, Erin, along with Floret's original 2-acre flower farm, has been featured widely in the press and garnered prestigious awards including the Martha Stewart American Made award for Floral & Event Design and Better Homes and Gardens' blogger award.
Her first book, Floret Farm's Cut Flower Garden, won the American Horticultural Society's 2018 Book Award and continues to inform, inspire, and delight flower lovers around the world. Erin's third book, Floret Farm's Discovering Dahlias, is an inspiration-packed guide full of wisdom and breathtaking photography. Growing Floret, an Emmy-nominated documentary series about Erin, her husband Chris, and their farm, debuted on the Magnolia Network in the summer of 2021.
Erin's passion is cultivating beauty in the world by helping others discover the joy of growing and sharing seasonal flowers. Thousands of aspiring and established flower growers and florists, including virtually all the emerging leaders in the field, have honed their craft at one of Floret's workshops. Floret's training has helped growers from more than 50 countries build thriving flower-based businesses and gardens, and fueled a global seasonal flower movement.
Fast Facts
Floret Online Workshop by the Numbers
Where Floret Online Workshop alumni grow flowers
Number of video tutorials included in the course
Typical plot size of Floret Online Workshop students
Age range of Floret Online Workshop participants
No Travel Required
CARVE OUT MORE SPACE IN YOUR LIFE & YARD FOR GROWING GORGEOUS FLOWERS
Join our virtual classroom and participate in the Floret Online Workshop no matter where you live.
YOUR GOALS
Grow a garden and life you love
YOUR PACE
Learn at your own pace—rewatch the videos as often as you'd like
YOUR LEARNING STYLE
Watch videos and take notes in your course book
YOUR SCHEDULE
Participate whenever and wherever you'd like
YOUR COMMUNITY
Connect with flower lovers all over the world
The Floret Online Workshop is geared towards:
Beginning and intermediate flower growers and gardeners wanting to grow flowers on a small plot, but in a bigger way.

Established growers wanting to improve efficiency, elevate marketing, or expand into new outlets.

Florists wishing to grow their own seasonal blooms.

Gardeners wanting to build a seasonal business, side gig, or new career centered on homegrown flowers.

Teachers and garden coordinators for local schools, community gardens, and institutions.

Dreamers who want to start a flower business.

Anyone looking to bring more joy and beauty into their life through flowers.
The Floret Online Workshop is NOT for:
Large-scale farmers or tractor-dependent agricultural operations hoping to learn high-tech, mechanized systems.

Growers seeking in-depth horticultural lessons or the science behind organic farming or pest- and disease-management systems.

Anyone looking for a get-rich-quick scheme. Building and running a flower business takes a lot of hard work and dedication. If you're not a motivated person and are uncomfortable with challenging situations, this may not be the course for you.
"Before taking the Floret Online Workshop, I struggled to balance my career and my family. Taking the step to learn about flower farming through Floret has changed the entire plan for my life. I am now able to help my husband run our farm and be part of every aspect of my children's lives. You can do this and make it work—it is not impossible."
COMPREHENSIVE. CONVENIENT. LIFETIME ACCESS.
REGISTER ONCE—PARTICIPATE YEAR AFTER YEAR
With lifetime access to the course content, you will get any new videos, worksheets, and course book additions. Plus, you'll be invited to go through the workshop each year.
Join Floret's Class of 2024
Choose the plan that's right for you
BEST VALUE
One payment of
$1,997 USD
(save $277)
MOST FLEXIBLE
6 monthly payments of
$379 USD
Press
FLORET WORKSHOPS HAVE BEEN FEATURED IN:
ANSWERS TO YOUR QUESTIONS
EVERYTHING YOU NEED TO KNOW ABOUT THE FLORET ONLINE WORKSHOP
Questions About the Workshop
Floret Online Workshop Waitlist
Sign up to be notified when registration opens for the next Floret Online Workshop.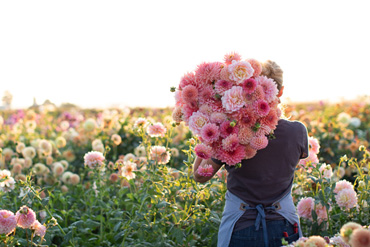 JOIN WAITLIST
Join Us
Join the Floret newsletter and stay in the loop on all the exciting happenings here on the farm
Close