---
Floret Flower Farm
Erin and Chris Benzakein have spent the last 15 years building their family-run flower farm and seed company Floret from the ground up in the fertile Skagit Valley of Washington State. What started as a tiny backyard cutting garden years ago has blossomed into one of the most well-known flower farms in the world, specializing in giving flower lovers the inspiration and information they need to grow the gardens of their dreams. 
---
Erin Benzakein
Considered to be one of the country's most influential farmer-florists, Erin has shaped floral design trends, redefined small-scale farming, and inspired others to grow, buy, and share seasonal flowers.
Erin has been featured widely in the press and received prestigious awards, including the Martha Stewart American Made award for Floral & Event Design and Better Homes and Gardens' blogger award. She is a New York Times bestselling author of three celebrated books and the executive producer of Growing Floret, an Emmy-nominated documentary television series about Erin and her husband Chris, the Floret team, and the farm, which debuted on the Magnolia Network in 2021. 
A researcher and educator at heart, she has helped growers from more than 50 countries build thriving flower-based businesses and gardens through Floret's Online Workshop. Erin's passion is cultivating beauty in the world and she is now devoted to breeding new cut flower varieties that will help give local growers an advantage in the marketplace.
---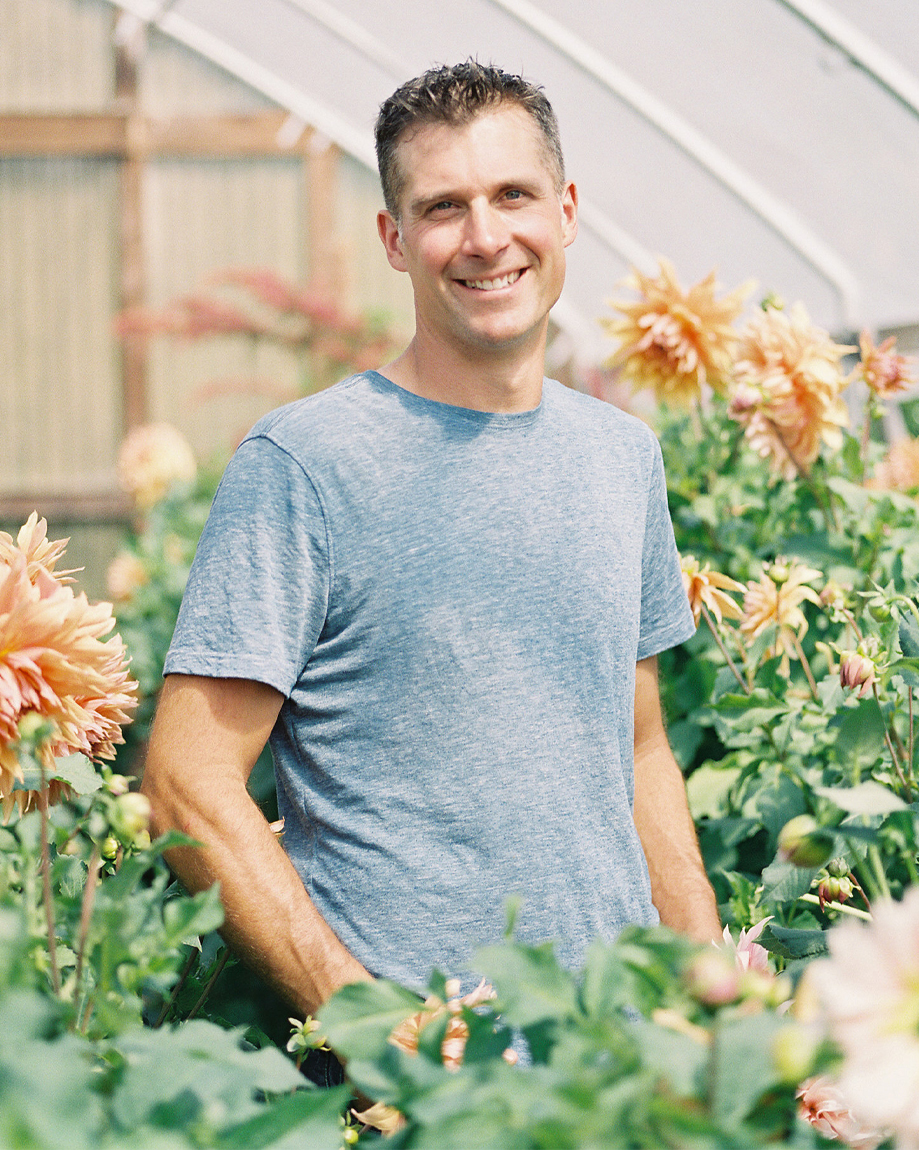 Chris Benzakein
Chris is a self-taught photographer whose work has been published in countless magazines around the world, and his breathtaking images fill the pages of Floret Farm's A Year in Flowers and Floret Farm's Discovering Dahlias books. 
A budding cinematographer, Chris has also filmed all of Floret's educational programs, including the Floret Online Workshop, and recently has contributed to the filming of the second season of Growing Floret. His eye for depicting the beauty and reality of their life on the farm is second to none.
Chris is passionate about soil health, composting, and regenerative farming practices and can master anything he puts his mind to. Beyond his creative work, he has built all of the major infrastructure at Floret and regularly uses his background as a mechanic and helicopter pilot to solve problems on the farm—he can literally fix anything.
---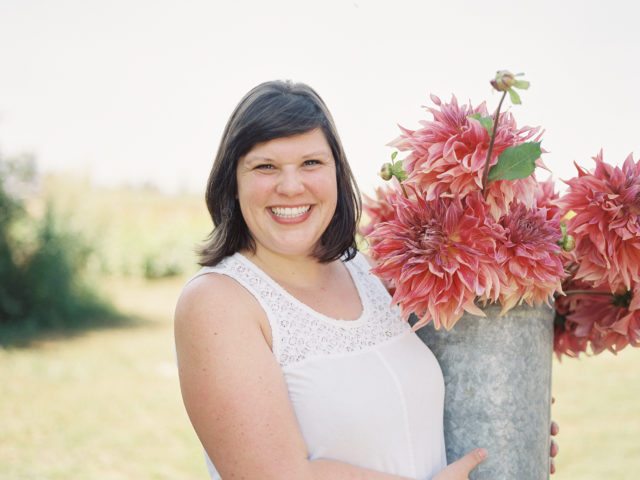 Jill Jorgensen
Jill takes things from good to great. With a background in writing, event planning, and floral design, she oversees all writing and content creation, coproduces educational resources and books, and helps bring ideas to life. Jill has played a key role in every phase of Floret's growth: She was the first florist to buy blooms in the farm's earliest days and has worked side by side with Erin ever since. Everything Jill touches, she polishes to a shine, and she cares so deeply for the work we do. The phrase most often heard from workshop participants is, "I need a Jill!" She lives in the Pacific Northwest with her husband and two young kids and has never met a garden rose she didn't like.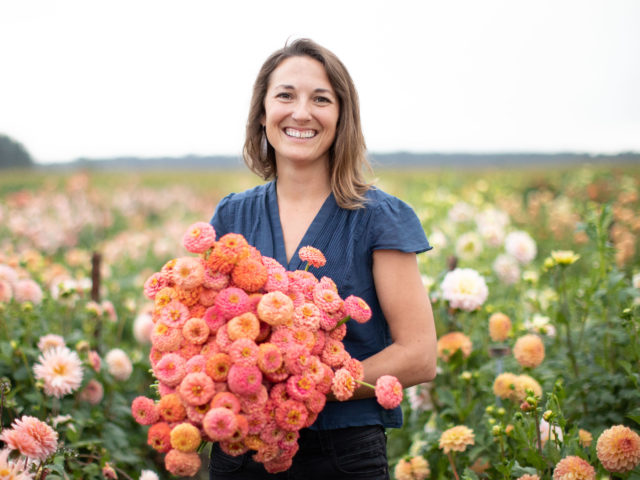 Nikki Boyce
Nikki came to us with a unique mix of farming and operations management experience. After taking Floret's 2018 workshop and putting what she learned to use on her own farm in Reno, Nevada, she moved to the Skagit Valley, where she manages our online shop—which means she's constantly working behind the scenes to ensure that all of the beautiful things leaving our farm are of the highest quality. Her favorite flower is the dahlia, and in her spare time, Nikki loves to create by sewing, doing watercolor, exploring, and finding all the best places to eat. Nikki appreciates the agricultural abundance of the Skagit Valley, where everything from flour to produce can be sourced locally.
---
Angela Strand
If you've ever written in to Floret, you've likely heard back from Angela with a helpful response. In addition to providing great customer support, she acts as our press liaison, helps facilitate the Floret Online Workshop, manages our Farmer-Florist Collective, and organizes special projects and events. She has a soft spot for the first spring daffodils and fields full of lupine. A lifelong Washington resident, Angela loves being active in her community, connecting with others, and encouraging positivity wherever she goes. She is a mother to three young children and a menagerie of cats, dogs, chickens, and ducks, and in her spare time, she loves to hike, garden, and work on her family's 2-acre homestead.
Laura Davis
Laura plays an essential role in developing and directing creative work, thoughtfully managing projects to ensure everything runs seamlessly. She also oversees all things tech-related, including our educational programs, website, and the Floret Library. She loves the abundance and late-summer magic of dahlias—and how they promote sharing—and she is constantly inspired by the care, beauty, and intention put into everything the Floret team creates together. You'll find Laura reading, cooking, gardening, and spending time with friends and family when she's not at work. She lives with her husband, two girls, and two crazy cats in the Pacific Northwest.
---
Francisco Gonzalez
Francisco is the heart of the farm and works incredibly hard to ensure that everything growing here at Floret has what it needs to thrive. He sets up and maintains the irrigation systems, prepares all of the beds for planting, installs plant support systems, helps with seed harvesting, and everything in between. There's nothing that Francisco can't do! He loves all flowers that grow on vines, especially clematis and sweet peas, and picks a bouquet for himself every day before leaving the farm. He enjoys spending time with his three kids, traveling, and fishing. Francisco loves the Skagit Valley because it's close to the mountains and the sea.
Eric Budzynski
​​As Floret's "seed person," Eric helps with all aspects of seed production here on the farm including planting, roguing, harvesting, and expertly cleaning everything that comes in from the field. Prior to his work at Floret, Eric was a vegetable seed farmer and is a wealth of knowledge on all things seed—he's a wonderfully patient teacher, too. His favorite flower is orach because it's wonderful in arrangements and bridges the world between vegetables and decorative flowers. Eric lives in northwest Washington and enjoys spending time with his family, cooking, gardening, hiking, live music, and traveling to Vancouver for its vibrant food scene.
---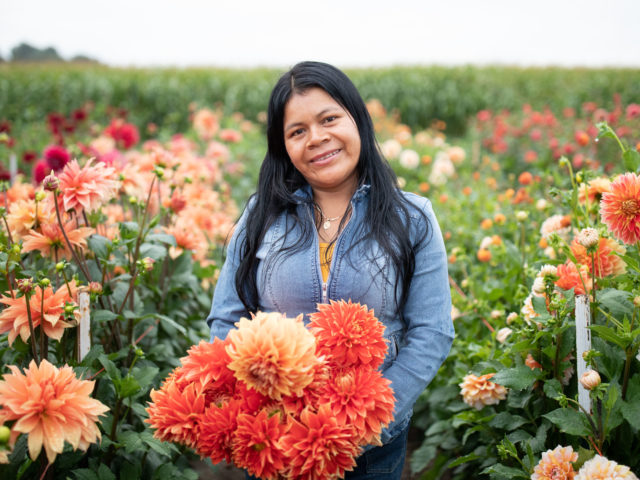 Alicia Gonzalez
Before coming to Floret, Alicia had never seen a dahlia, so you can imagine how awestruck she was during her first season at the farm and now she's constantly falling in love with new varieties. Alicia leads our team in the monumental task of packing all of the seed packets that leave the farm. She has a keen eye for detail, approaches the work with great care, and her laughter is contagious. When Alicia isn't at Floret, she enjoys spending time with her family, being involved with her church, and meeting up with friends.
Rosario Lopez
Rosario is always quick to jump right into any project we need help on with her wonderful smile and love for fast-paced work. She enjoys packing seed, shipping orders in the Floret Shop, and keeping the farm tidy, and is always happy to lend a hand wherever needed. Her favorite flowers are red dahlias, and she's excited to learn all the flower names on the farm. Rosario loves the Skagit Valley weather, particularly in summer when everything is still green and beautiful. When she's not at the farm, she loves spending time with her young son and being at home with her family.
---
Nina Foster
Nina considers Floret her second family and is thankful to take part in the team's work of bringing beauty into the world. In the early days of Floret, she was instrumental in our on-farm workshops, acting as the hostess and making sure that all attendees felt warmly welcomed. Today she assists with photo shoots, book, video, and design projects. She also helps us plan and carry out on-farm events and host farm visitors. Her favorite flowers are narcissus and dahlias, and in her spare time, she loves to cook and bake for her family. She grew up in Vermont and remembers searching for trilliums with her sister as they ventured out after long New England winters. Flowers have played an important role in her life ever since.
BriAnn Boots
BriAnn helps to ensure that no question goes unanswered in the Floret inbox. During the Floret Online Workshop, she supports and encourages students and believes that flower people are the happiest people in the world. BriAnn loves being part of a team that so generously shares information. She has a fondness for tulips in the spring, but dahlias in the summer are a close second. In her spare time, BriAnn loves making bouquets for her farm stand, exploring new restaurants, hiking, and going to the beach with her husband and two young children.
---
Sam Hoot
Sam helps coordinate the day-to-day workflow here on the farm and pours so much love and care into everything he touches. After college, he worked in the biotech industry on HIV vaccine development but felt called to work more closely with nature. That's when he made the switch to small-scale market gardening with a focus on heirloom vegetables. Sam didn't give flowers much thought until he came to Floret, but he is now enamored with their beauty and diversity, and he loves bringing flowers home to his mom. Sam enjoys cuddling with his cat, backpacking, crafting, and growing (the most delicious) tomatoes. His favorite flower is lupine because they bring back early childhood memories of visiting the mountains.
Jachin McInturff
If you want to find Jachin on the farm, just follow the music. He is never without his speaker and sings as he works in the field fixing irrigation, brewing compost tea, caring for the plants, and assisting Francisco whenever needed. In addition to being an incredibly hard worker, Jachin also has a real knack for repairing things and helps maintain all of the vehicles and equipment on the farm. Jachin's favorite thing about working at Floret is that we're always improving and trying to find better ways to do things. His favorite flower is the dandelion and as a child, he would always pick and leave little arrangements of them with a note for his mom. Jachin's hobbies include studying the bible, fixing up his '71 Nova, and playing the guitar and drums.
---
Timmy the Cat
Timmy is Erin's constant companion as she walks the fields taking pictures and cutting flowers. Timmy first showed up on the farm as a stray, and it took many months of feeding her to coax her into being held. Since orange female cats are rare, we assumed Timmy was a male, and before we realized our mistake, her name had stuck!